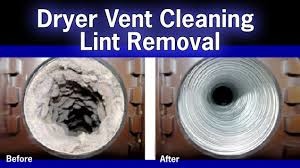 Have your dyer vents been inspected and cleaned in the past 12 months? If the answer is no, your home might be at a risk of fires. This is because dirt, dust and other debris accumulate in your vents and this leads to vent clogging which is a major cause of fires in homes. In addition, dirty and dusty dryer vents significantly reduce the efficiency of your system and this leads to huge energy bills.
Don't risk a fire or pay high electricity bills, call NATE-certified technicians at Miramar Air Conditioning Repair for exceptional and competitively priced dryer vent cleaning services. This will come with numerous benefits including:
Benefits of Professional Dryer Vent Cleaning
• Reduced humidity and dust in your indoor environment
• You will preserve your clothing since excessive temperatures can damage the fabrics
• Prolong the lifespan of your system
• Save money on energy bills
• Peace of mind because you will not have concerns of unexpected dryer breakdown
• Enhance the safety of your home
• Clothes take a shorter time to dry
Your Home and Your Family Might be at Risk if…
• The dryer ducts have not been cleaned for more than one year. It is very dangerous when lint builds up in your vents because this poses fire hazard in your home.
• The dryer duct length is over 25 feet because this slows air flow
• Your dryer has flexible vinyl or plastic duct. Though plastic duct is cheap, it catches fire very easily and as such you need to replace this type of duct with a metallic one.
• Your dryer has flexible thin foil duct. This type of duct tends to kink thus stopping air flow. You should use solid metal tubing in the place of foil duct. The tubing should be at least 4 inches in diameter.
Dryer Duct Warning Signs
When the outdoor flapper on your dryer vent hood does not open when you turn it on, it is time to have it inspected by a professional.
If your dryer is producing heat but clothes take longer periods to dry (more than 40 minutes) especially jeans and towels, call us at Miramar Air Conditioning Repair and we will do a comprehensive job to ensure that your dryer functions at its peak efficiency.
Are your clothes still hotter or damp than usual after the drying cycle? This points to a problem with the dryer. You can rely on our first class Miramar dryer vent cleaning services to inspect and professionally clean your dryer vent to restore its efficiency. They will also check your entire system to ensure each and every part is in good working condition.
We give you a free estimate before we can commence any work in your home to ensure that we are on the same page from the beginning to the end. Our dryer vent cleaning services come with a 100% guarantee and as such you can rest assured that you will get nothing but the best services.
Keep your home safe by lowering the risk of dryer fires with Miramar Air Conditioning Repair exceptional and quality duct cleaning services.
Call Today at 954-518-3367 or fill out the online contact form and we will respond promptly!